Michie Stadium Seating Chart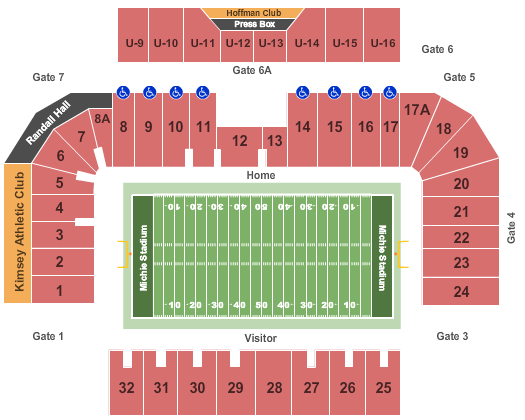 NOTE: Seating layouts can change depending on the type of event. The individual seating chart for the event can be seen when selecting your tickets.
Hoffman Club Level
The Hoffman Club Level is an indoor, climate-controlled seating area located between the 50-yard lines in the lowest level of the Hoffman Press Box Complex, on the west side of Michie Stadium. Hoffman Club Level season ticket holders have exclusive access to complimentary food and beverages, in addition to a cash bar.
They definitely offer some of the best elevated views of Army football but, seats come at a premium price.
Superintendent's Loge
The Superintendent's Loge has exclusive access and covered seating area located between the 50-yard lines on the west side of Michie Stadium. Addtionally, Loge season ticket members have access to an indoor club area, complete with complimentary food and beverage in addition to a cash bar.
Each seat is at the perfect elevation and comfort to see the action on both ends of the field with ease. Also, the midfield location will keep you fully engaged while offering great views of both player sidelines.
Army Sideline & Visitor Sideline
The Army sideline is in front of 11, 12, 13 and 14. Where else, the visiting team sideline is in front of 28 and 29.
Visiting Fans Seats
Visiting team seating is located in Sections 2, 3, and 4.
Best Seats
Other than the club seats, fans can also go for the sideline sections row 10 and above to get more elevation. The right amount of elevation would help with getting a full view. However, most seats in Michie Stadium are close to the field as it is relatively a small seating stadium.
Grab your tickets today and choose your desired seats. Visit the Michie Stadium schedule to select your event.
To view our ticket & refund policy please check the ticket information page.